This
infographic
shows the future trends in scientific fields, claiming that of all the STEM degrees awarded in 2009, nearly half of them were awarded to women. It is true that in the past decade, the STEM gap in America's workforce has been steadily closing. But interestingly, there's still a significant unbalanced gender divide for engineering, physics, and computer science fields. (A small clip of the infographic. LOOK at all that blue!)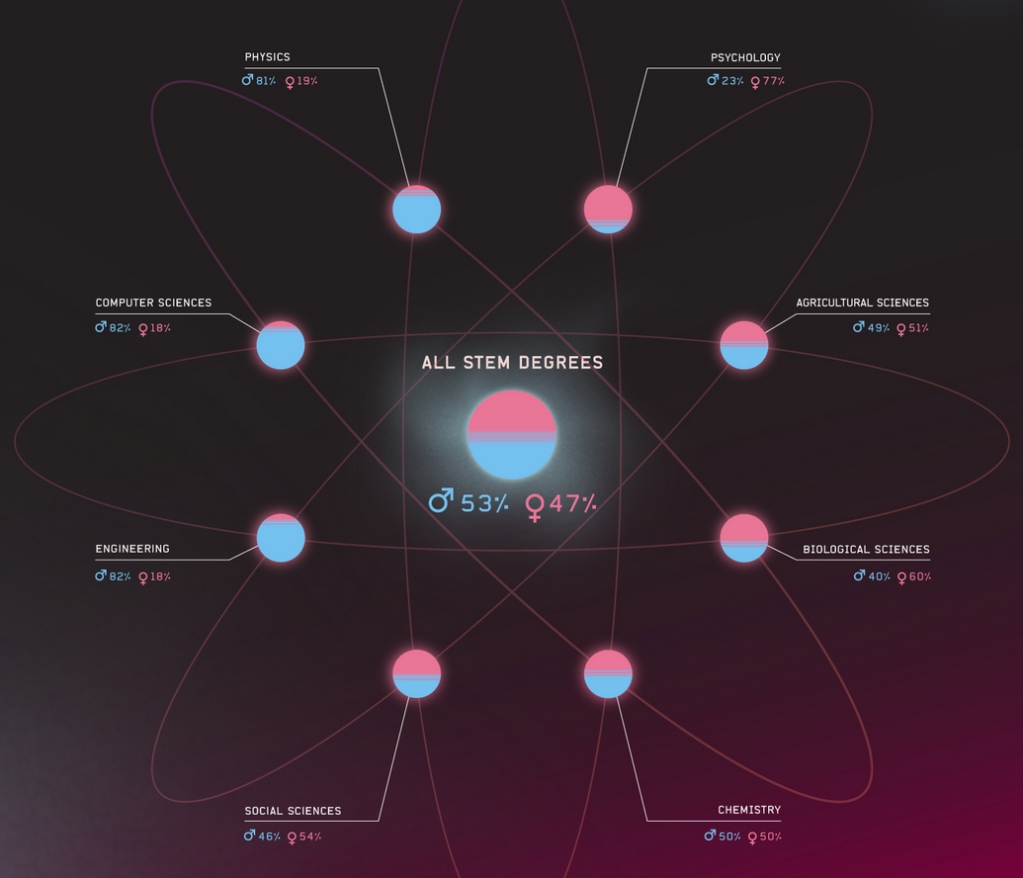 "Under-representation" seems to be a huge buzz word when it comes to girls and women achievement in the STEM field. What implications does this hold for the future of education? Should there be more intervention efforts to make sure female students aren't afraid of pursuing STEM careers? Here is a
recent study
that observed the effects of women-in-sciences/men-in-humanities intervention on Taiwanese adolescents' attitudes towards learning science. Using a pretest-prosttest control group design, the study found that the negative attitudes of girls toward learning science significantly diminished after the intervention. Also, The White House Council on Women and Girls held a gathering on Tuesday, focusing on girls in the STEM fields. The panel hit some major points surrounding women and girls in science and math:
– Yes, you can be a pretty, high-heel-wearing cheerleader sorority sister and be a scientist, engineer or mathematician. – Don't think you're doing worse than the boys in class. You're probably wrong. – Cultivate mentors and others who will encourage you to succeed. – Don't be afraid of failure. – Think (and work) outside of the classroom
There is a unique challenge women face when venturing into the STEM fields, a factor as simple as timing. Facebook Director of Engineering, Jocelyn Goldfein, says she often finds that girls discover computer programming later than boys. (
Washington Post
) It seems like early interventions in elementary and secondary education would not only change the attitudes of adolescents towards learning science and math, but it would help students discover the exciting world of STEM and the possibilities it holds for their academic and professional future.