Wikiversity
As Wikipedia is to a free encyclopedia,
Wikiversity
promises to be a free online university. According to the February issue of
First Monday
, Wikiversity is "a repository of free, multilingual educational resources; a network of communities to create and use these resources; and group effort to learn, which may or may not be led by an instructor, who may or may not be an expert on the topic." Wikiversity ran its first experimental course, entitled "Composing Free and open online educational resources" on March 3, 2008 that lasted for eight weeks. While the feedback was generally positive, most of the participants were frustrated by the communication tools–blogs and wikis. They suggested more collaboration and live events with video and audio conferencing. In general, they wanted to feel more like part of a community.
Twitter and the Laurel Wreath
Alternate, or nontraditional, forms of education are no stranger to EdLab projects (see Doug's
freegan vid
or any of the shows from Erin's epic
NY2NO
series). That being said, who says you can't get educated while posting your daily (or hourly) tweet? One
blogger
divulges his 18 "Twitter professors" and how he has learned from each one of them. One "professor" he follows is Meryl3333. Outside of the classroom, where did you learn your most recent lesson?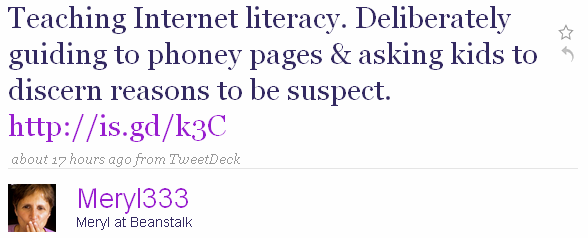 .
iPhone App-a-Day
Are you a star gazer? Then
Distant Suns
is the app for you! It offers educational lessons on the sun, moon, planets, constellations, and galaxies. The most remarkable aspect about this app is that it shows the user how the sky would look (stars and all) from the user's actual location–the app includes a built-in GPS locator.